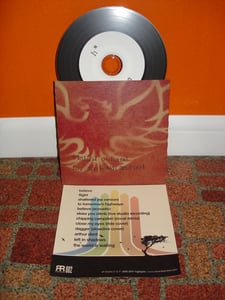 $

10.99
"sleight of hand for the down and out - rarities, alt versions, & unreleased material 1999-2009"
This is a limited run (100), 12 song disc chronicling hard-to-find and unreleased Highspire material from our first 10 years, including our long out of print debut ep. The first 50 copies were sold during our other band, the Morning After Girls, US summer tour.
Due to demand we've made a second run! All copies are hand made and spray painted by EJ, hand numbered (this batch is #'s 51-100), on vinyl-looking CD, and includes info about each track.
These are the remastered versions of the best versions of these tracks we personally have. Most the original recordings have been lost, misplaced, or trashed over the years.
Track Listing:
1. believe
2. flight
3. shattered (ep version)
4. to tomorrow's highways
5. believe (acoustic)
6. skies you climb (live)
7. chipping campden (vox remix)
8. close my eyes (ride cover)
9. dagger (slowdive cover)
10. arthur dent
11. left in shadows
12. the world is waiting
:: temporarily on hold ::